The most reliable and feature laden mobile devices and accessories, whose performance and efficic
About Us
Incorporated in 2016, Shugo Telecom Limited is a reputed manufacturer and supplier different types of mobile phones. We have our manufacturing plant in the industrial segment of Kundli, Dist Sonepat, (NCR, and Delhi). We are selling mobile phones under the brand name RIDUM and UBLU, and through various websites. Our corporate office is in Delhi and around 410 service centres in the country. We have established a wide network of distributors and retails which helps us in selling mobile phones efficiently.

In the modern world of computing and automation, technology has become our best friend and has given us revolutionary devices like mobile phones that have essentially put communication and knowledge of the entire world in the palm of our hand. Shugo Telecom Ltd. aims to further elevate the convenience factor through its range of mobile devices, smart watches and similar accessories, which are famed for their unrivaled performance, stellar build quality and efficiency. These factors have made them an ideal choice of consumers.

Our company was established in the year 2016 in Delhi (India), and in a relatively short span of time, our unfazed dedication and immense commitment has bore fruits, making us one of the most reputed and sought after brands in the industry. We are a backed by a posse of ambitious yet highly skilled workforce at our manufacturing plant in an industrial sector of Kundli (NCR Delhi), Sonepat, Haryana; and are an emerging Manufacturer and Exporter of products such as Mobile Phones, Smart Watches, Mobile Car Charger, Multi Pin Mobile Charger, Car Chargers and Accessories; among others.

Our Products
We offer fully-featured mobile phones under the brand names of UBLU and RIDUM as well as smart watches, accessories and spare parts of high quality. Following is a list of products we offer:

Mobile Phones
Multi Pin Mobile Charger
Smart watches
Car Chargers
Accessories
Spare Parts
Quality Assurance
When it comes to real world performance and practical usage scenarios, our products offer a way better performance and efficiency, compared to what other companies' products in the market have to offer. As for our mobile devices and smart watches, they employ the
latest generation
of
power efficient processors
(SOC) at their core,
high capacity battery
and a
feature loaded operating system
, all housed in a highly durable kit, made of
supreme quality materials
such as high durability polymers. Moreover, the car chargers, spares and accessories we provide have been designed and manufactured with high levels of precision, using the bests grade materials, so that they can serve their utility and stand the test of time.
Why Choose Us?
Shugo Telecom Ltd.
has been among the most reputed names in the domain, all thanks to its highly demanded portfolio of smart devices and accessories like mobile phones, chargers, etc., whose stellar performance and efficiency make them an ideal choice. Listed below are a few traits associated with our company that may compel you to associate with us and explain why we are worth your consideration:
Our mobile phones make use of the latest processors and have advanced, feature heavy software.
We have more than 400 centers all across the nation to offer seamless services.
Quality tested and approved for performance as well as build quality and endurance parameters.
Our offerings are priced reasonably and offer maximum value for their price.
Bulk orders can be placed, and rest assured, we'll furnish them in time.
Wide supply chain network of retailers and distributors, making it relatively easy to avail our products.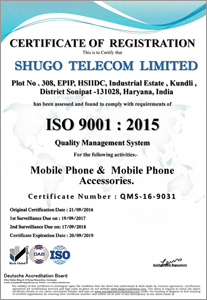 SERVICE CENTERS

Get in touch with us